De huidige inflatieverwachtingen in de VS lopen wellicht vooruit op het herstel van de reële economie, zo stelt Fidelity International bij zijn Grafiek van de Week. Fidelity verwijst daarvoor naar factoren als de M2 geldsnelheid, maar ook naar de koopkracht en de spaardrang van de Amerikaanse consument, de olieprijs en de vraag in de reissector.
Hieronder vindt u het volledige bericht:
Chart Room: Is disinflation lurking around the corner?
In a bullish signal, the bond market's short-term expectations for US inflation are back near pre-crisis levels, while CPI is tracing a similar V-shaped recovery. But are investors being overly optimistic?
Our latest Chart Room shows that even as the Federal Reserve unleashed record amounts of stimulus, that is so far struggling to translate into demand in the real economy. The rate at which money was exchanged for goods and services (as measured by M2 money velocity) collapsed in the second quarter. In other words, demand in the real economy remains weak, perhaps too weak to push prices sustainably higher – despite the surge in new money supply.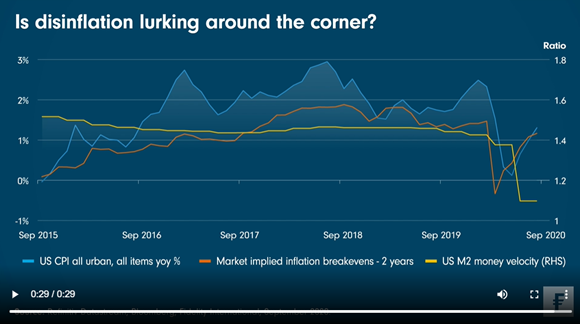 Surveys on US income expectations have collapsed to nine-year lows, raising concerns over purchasing power. People are also deleveraging – US consumer credit card debt has contracted in five of the past six months, while credit card balances have fallen at an unprecedented annualised rate of 20 per cent. At the same time, personal savings rates remain elevated at 2.5 times that of pre-Covid levels.
While oil prices have somewhat stabilised, they are still off their pre-Covid levels, and demand for travel remains stagnant. Inflation breakevens with 2-year tenors (which track the bond market's expectations for inflation in that period) are usually closely tied with oil prices, but have risen even further in recent months. In our view, all these factors suggest that inflation expectations may have run ahead of the recovery in the real economy.
So how should investors position for this? We believe the sharp rebound in inflation is a sign of potentially excessive investor optimism spurred by ultra-low real yields. As a result, we're wary of volatility in assets which had benefited from these low yields, which we're seeing to some extent with the recent sell-off in risk assets. This applies to gold prices as well, which appear somewhat precarious considering how their correlation to equities has increased.
To be sure, inflation isn't dead, and the situation continues to evolve. Greater amounts of fiscal stimulus could change our outlook, and this is a real possibility if the US recovery falters further amid looming elections. But for now, we see the balance tipping toward disinflation.